Community Information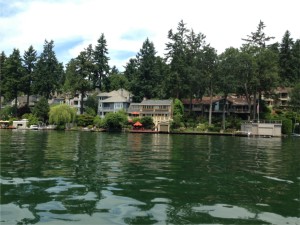 Primarily located in Clackamas County, Lake Oswego encompasses 11.2 square miles and has an estimated population of approximately 37,000+ residents. Only minutes from the city of Portland and nestled along the west bank of the Willamette River, Lake Oswego is known as one of the finest residential areas in the state.
Lake Oswego homes for sale come in many styles, from gracious traditional homes, to luxury town homes and condos, all on the 16 miles that surround Oswego Lake. The boutiques and cafés of First Addition and Millennium Plaza draw visitors and add to the charm of this quaint community.

Lake Oswego – Living
The residents of Lake Oswego are quite active in their community and many take advantage of the city's private and municipal 18-hole golf courses, indoor tennis center, and two public swimming facilities. An outdoor amphitheater that is located along the river, brings the arts alive and joins the community efforts with a newly named Arts Council of Lake Oswego that shares its vision of a Gallery Without Walls through a walking tour of sculptures.
New sculptures are added annually by artists submitting their creations to the council. Cutoff for submissions is generally in November for the following year. Live theater is also featured at Lakewood Theater Company; a performing arts center that has become a cornerstone to the art community of Lake Oswego.
Millennium Plaza is at the heart of downtown Lake Oswego's revitalization plan. The successful project by Graymor rests on the banks of Oswego Lake and offers shopping, dining and office space. Manzana Grill and Five Spice Bistro offer outdoor seating overlooking the Lake…wonderful for sunsets!
The community is served by the area's top-rated Lake Oswego School District. All ten public schools in the district have been recognized as an "Exceptional School" by the state of Oregon. In addition, more than 80% of Lake Oswego's high school students further their education by attending college.

Read more about Lake Oswego
Lake Oswego – The Economy

Iron was Lake Oswego's first major manufacturing enterprise, but since then, the city's economy has changed drastically. The major industries that help to boost its economy include health care, high-tech, machinery, forestry, renewable energy, food and beverage processing, and agriculture. There are more than 2,000 businesses in operation in the city, making for a strong local economy that is able to provide its residents with a wide range of goods and services. In addition, the city's no-business-tax and no-business-license-fee requirement helps to draw more and more businesses in each year. The city has received the Comprehensive Annual Financial Reporting Award for 14 consecutive years, given by the Government's Finance Officers Association.

Lake Oswego – History
Once occupied by the Clackamas Indians, it was't until the mid-1800s that Lake Oswego was transformed into a booming industry town. In 1847, a man by the name of Albert Durham founded Oswego, naming it after his birthplace in New York. In 1851, Durham platted Old Town, the first area in the community that began to truly see a lot of growth. He built the town's first industry, a sawmill on Sucker Creek, now known as Oswego Creek. In 1865, Durham sold the land to John C. Trullinger who furthered Durham's efforts in making the town a prosperous one.
While iron deposits had been found as early as 1841, it was not until 1865 that the town's first manufacturing company (the Oregon Iron Company) began operation. The Oregon Iron Company was the first of three companies that helped make Oswego an industrial center. At its peak in 1890, the iron industry in Oswego employed more than 300 workers and produced more than 12,305 tons of pig iron. It was the state's biggest manufacturing enterprise and because of it the town prospered and saw tremendous growth.
In 1886, a narrow gage railroad between Oswego and Portland was built. Around this time, the iron industry, which made the town so prosperous in the beginning, began to fail and the owners of the Oregon Iron & Steel Company turned their attention to land development. The city of Oswego was incorporated in 1910 and power poles were erected to provide electricity to the community. Between 1910 and 1941, the Ladd Estate Company bought approximately 24,000 acres from the Oregon Iron & Steel Company and transformed the depressed iron town into a magnificent lakeside community. A country club and golf course were built along with a polo field and giant indoor riding arena. Park-like neighborhoods were created and new boulevards were laid out under the slogan, "Live where you play." In 1960, the city changed its name to Lake Oswego and today, it is considered one of the best places to live in Oregon.